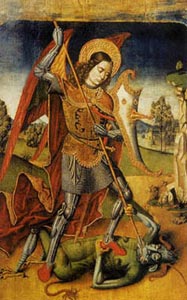 St. Michael the Guardian Angel: Our Protector and Helper on the Way to God
"At that time Michael, the great prince, the protector of your people, shall rise" (Daniel 12:1)
On a rocky island off the coast of Normandy in France, a huge Benedictine monastery rises spectacularly into the air.  Although receding tides leave it connected to the mainland, the water rushes back in at great speeds as the tide turns.  These treacherous currents and the quicksands in the area have challenged pilgrims for centuries — pilgrims on their way to Saint Michael's greatest shrine: Mont Saint-Michael.  Around the year 708, Bishop Aubert of the diocese of Avranches reportedly had a vision of Saint Michael.  The angel asked the bishop to build a church in his honor on the rocky island in the Atlantic.  Aubert built the shrine, which in 966 became a Benedictine monastery.  Devotion to Saint Michael flourished there and drew pilgrims from all over Europe.  During the French Revolution the shrine was converted to a prison; then, in 1874, it became a public monument.  In 1922, however, the French government allowed it to be used as a place of worship again.
The rugged terrain of Mont Saint-Michael is an appropriate setting for a tough angel often invoked for help in the struggles of life.  Saint Michael is the best-known angel, and devotion to him has flourished through the centuries.  Many parish churches claim him as their patron.  Michael is also known as one of the saints who spoke to Saint Joan of Arc to encourage her in her unique mission from God.  But in a particular way, Michael helps us in the spiritual battle against temptation and sin.  This derives many from a text in the Book of Revelation:
"And war broke out in heaven; Michael and his angels fought against the dragon.  The dragon and his angels fought back, but they were defeated, and there was no longer any place for them in heaven.  The great dragon was thrown down, that ancient serpent, who is called the devil and Satan, the deceiver of the whole world — he was thrown down to the earth, and his angels were thrown down with him. (Revelation 12:9)
This text indicates that in some way Satan rebelled against God at the dawn of time before human life on earth existed.  Christian tradition has found in this text a basis for Michael's key role in the battle against evil and Satan, a spiritual battle.  Because Scripture presents Michael as the protector of God's People, he is seen as the adversary of Satan.
The Bible also refers to the Archangel Michael in a few other passages that deal with the end times.  These Scripture passages form the basis for devotion to the Archangel Michael.  The Book of Daniel states: "At that time Michael, the great prince, the protector of your people, shall rise" (Daniel 12:1; see also 10:13).  The Letter of Jude also refers to Michael contending with the devil (v. 9).  Apocalyptic writing is difficult to interpret and need not to be taken literally.  However, it indicates that Michael has a special role in protecting us from evil and dangers, especially spiritual dangers.  In speaking of the fall of the angels, the Catechism of the Catholic Church states: "We find a reflection of that rebellion in the tempter's words to our first parents: 'You will be like God'" (no. 392).  Michael, instead, chose to worship and adore God alone.  The very name "Michael" means "Who is like God?"